At present, releasing app and updates has become a trend. Each and every app developer is adding new features to improve the user experience. In line with the trend, Facebook has rolled out new features to its Messenger app. The app has a video call feature and to endorse its use, the company has included more features so as to make more eye-catching to users than before. The new additions to the app's video chat feature include animated reactions, new masks, and filters possibly to attract to younger audiences.
To start with, let's have a look what all is included in animated reactions. In this, the users of Facebook Messenger can use 1 of the 5 emoji icons to prompt their emotions such as laughter, love, sadness, anger, or surprise. The company said, "You can present your mood in the moment, as these reactions will be animating on the screen and then just disappear. Remarkably, Facebook says that these reactions will represent themselves in diverse forms depending on whether the users' face is off or on the screen.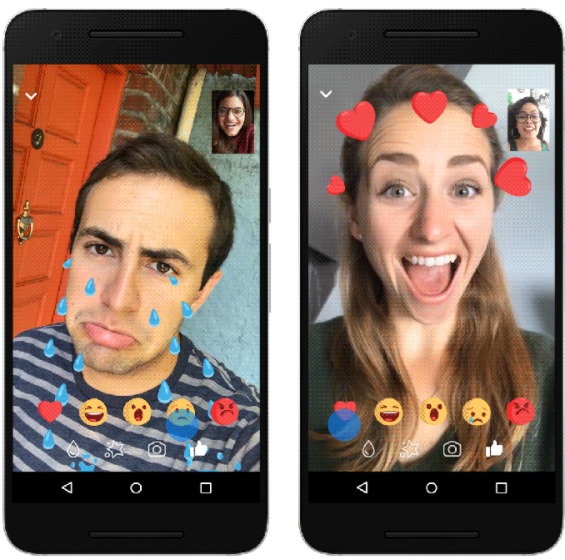 Next are the video filters that enable the users to communicate with each other while being colored in a diverse tone than normal. The company said, "Select from a collection of filters, spanning from subtle lighting tweaks to bold color changes such as black and red, yellow, or white." Particularly, the live preview feature lets users check the filters on themselves prior to any other individual see the filter in action.
Messenger already has masks; however, the company has included a few more options for masks. It has also launched new effects so as to make the video chat livelier. Facebook said, "In contrast to reactions, effects and masks remain on the screen for the period of the video chat or till you change to another one or take them off."To end with, taking screenshots during video chats has also been made easier. All the user needs to do is press the middle round button during group or one-to-one calls to take a screenshot. They can either opt to save the image to gallery or directly share it through social media.
So, do use these features and let us know how interesting they are to use.