Mackbook are fully certified under the European Union (eu) The International Organization for Standardization (ISO) program which deals with high level of standards of customer satisfaction as well as the operational efficiency. If you want to purchase the new Macbook, then you can easily buy it online or from an offline store. You will of course love it but the main question is how to get all the previous Macbook data in your new Macbook.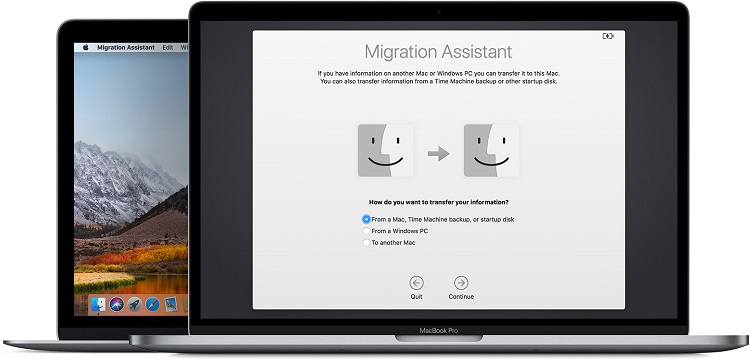 Users love their new Macbook but still it is of no use if they cannot move the previous data in their new device. So, if you have new Macbook and you want to keep your files secure and with you in your new Macbook then APPLE makes it possible for you. This can be easily achieved by the migration assistant tools. If you are thinking that with the help of this, you will have to move the files one by one then you are wrong because you do not have to move the files like this. This requires more time as well as more efforts. If files will get transferred one by one then it will be a hectic procedure for the user and it will spoil the fun of using a new Macbook. This article will tell you about the transfer process.
But before trying to move anything there are three important things you should check first i.e. power, settings & software. User should have the same software updates on both the Macbook the old as well as the new one. Both devices should have proper power means charging. It is also very important that your old Macbook should use at least have OS X Snow Leopard v10.6.8. If there is any third party app (apart from the inbuilt apps) update them also, if available.
Now user should look at the computer name in the old Macbook and for this you need to click Apple menu < system preferences < sharing < select the computer name field. Make sure that your device on connected to the AC power. Now, for connecting the devices, you have to make sure that they are close to each other having their wi-fi on, if you connect them through wi-fi. If any of your Macs are using OS X El Capitan or something earlier then you have to connect them on the same network with the help of Ethernet or wi-fi.
With the help of target disk mode by cable or adaptor, you can easily connect both of the devices. Target disk mode is a very helpful way to move files. If display is not working then also you can connect them by USB-C, Thunderbolt 2, Thunderbolt 3, or FireWire. Now the next option is to connect the new Mac with the time machine for the backup purpose. At this point, you need the migration assistant; for this, in your new Mac, go to the apps folder < check utilities folder < open migration assistant.
After this, you are asked about transfer option choose time machine back up and then click on continue option. In your old Mac, open the migration assistant as the same, in this also you are asked about the transfer info, choose transfer to other Mac and click on continue. Enter the required security code to start the transfer.
Thus, when migration assistant is done with the task then you are able to login your new Macbook and can easily access your old files and data.