Markets Focus on Trump on Domestic Violence Issue
August 24, 2017
Somehow President Trump turned a vicious domestic violence issue into a challenge for the White House as opposed to getting the nation behind him.  Domestic terrorism effects everyone in the United States, and while Trump condemned the action, but he refused to place blame on the White supremacists who inflicted the attacks which will only make it more difficult for him to get his agenda across the board, especially after losing the support of Kenneth Frazier who sat on the Presidents Manufacturing Council.
Ahead of the weekend, it appeared that the current standoff between the White House and North Korea was dissipating. The rhetoric which had been built up throughout the week was started to decline.  Earlier in the week, President Trump stated at his vacation home in New Jersey that if North Korea continued to provoke the world with continued Nuclear testing, that the country would be met with "Fire and Fury" like never seen before. This was met with a provocative response from North Korea which said it would attack Guam the U.S. attacked North Korea.  This escalated even further with Trump responding that North Korea would be leveled, in any attack on Guam.   As discussed in iFOREX news.
Volatility Rises
Trump refuses to back down, and his rhetoric is escalating rather than declining, which help buoy volatility in U.S. stocks.  Implied volatility measured by the VIX shot up nearly 75% last week. The VIX measures the implied volatility of the S&P 500 index. The higher the implied volatility the more expensive it is to purchase protection against an adverse move in stock prices. The VIX hit the highest levels seen in 2017 and a 9-year high.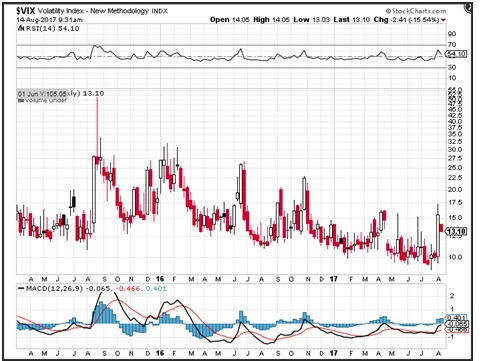 While the VIX eased early in the week, it is likely to remain elevated despite a news cycle that has turned U.S. investor attention to domestic violence.  On Saturday Charlottesville Virginia experienced an attack on a small peaceful town that is the home of one of the most prestigious Universities in the United States. White supremacists, rallied in the Virginia town, which eventually led to a counter rally, where violence broke out killing one person, and injuring 19.  The death was caused by a car, which slammed into a group of counter protestors, turning the automobile into a weapon.
Trump Won't Back Down
In the wake of the violence, President Trump consoled the country but did not blame the right wing neo Nazi's but instead said that it was related to multiple groups.  Right wing groups cheered the President inaction, but senators and governors immediately chimed in to express their disappointment. On Monday, Merck CEO Kenneth Frazier resigned Monday from the president's American Manufacturing Council in protest of President Donald Trump's response to white supremacist violence in Charlottesvilleand Trump immediately blasted the drug executive on Twitter. Frazier described in a statement that his actions were based on his morality and needed a President that stood up for the same issues. Trump saw this as disloyalty, and does not want to back down on his positions which were countered by many of his surrogates including Vice President Pence.
Stock investors should look at these issues as a headwind as investors want to see legislation on taxes that will benefit the economy.  Trump continues to hurt his own popularity ratings, which leaves him with little political capital. Stocks now are not pricing in any good news, but if Trump is able to pull this off a tax law, share prices will likely surge.